St Mary's Convent
St Mary's Convent was founded by Venerable Catherine McAuley on 19 August 1841 in response to the request of the Bishop of Birmingham.
Catherine accompanied three Professed Sisters and two Postulants with their Novice Mistress from Baggot Street and stayed with them for a month. Sister Mary Juliana Hardman was appointed the first Superior.


Sister Juliana Hardman First Superior of Handsworth,
Stained Glass Windows in Catherine's Oratory
St Mary's Convent holds a unique place in the history of the Sisters of Mercy in Great Britain. It is associated with the famous architect Pugin and it is the last Convent founded by Venerable Catherine McAuley, in the year of her death.
John Hardman, father of Juliana, built the Convent in the Pugin style, in preparation for the beginning of Mercy in Birmingham. Another of his daughters joined the Sisters of Mercy and a grandchild became a Postulant. John Hardman's wife came to live in St Mary's following his death and is buried in the Convent grounds.
Sisters' Ministries in Birmingham
The main apostolic work of the Sisters was education, caring for orphans and girls in need, visitation of the sick and the instruction of converts. Many people benefited from the Corporal and Spiritual works of Mercy practised by the Sisters. The constant change and influx of other groups of people into Birmingham means that the Sisters constantly review their ministries to meet the needs of the new groups and provide them with the resources they need. St Mary's reaches out to people of different faiths and cultures, it provides a place to uplift the hearts and minds of everyone and helps young parents to acquire parenting skills.
St Mary's has become the central hub for the Sisters of Mercy in Great Britain. It is a place of welcome, active engagement, spiritual enrichment and a place of pilgrimage. It offers time and space to look, listen and meditate. It tells the story of Mercy in England, Scotland and Wales, is a place for women and is rich in Heritage.
Archive Ministry at St Mary's Convent
Archives are part of the historical identity of a congregation, documenting the spread of Mercy through diverse ministries, and serving as congregational memory for practical as well as cultural purposes. These Archives allow both Sisters and various other researchers to understand the development of an Order and its place within religious, social and economic history. The Catholic Church also recognises the role that past stories, documented in the historical record, have to play in future planning and in evangelisation. The Union Sisters of Mercy GB Archive and the Mercy Heritage Centre at St Mary's Convent, Handsworth, express this heritage and help to tell the story of Mercy in Great Britain.
Visits to the Archive are by appointment with the Archivist.
Contact:
The Sisters
Union Sisters of Mercy GB Archives
St Mary's Convent
Handsworth
Birmingham
B19 1EB
Telephone: +44 (0)121 554 3271
Email: archives@mercyhandsworth.org.uk
For further information contact:
Sister in Charge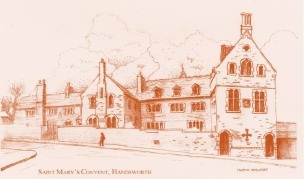 St Mary's Convent of Mercy
98 Hunter's Road
Birmingham B19 1EB
West Midlands
England
Tel:       +44 121 554 3271
Fax:      +44 121 515 2496
E-mail: sisters@mercyhandsworth.org.uk
To find out more about Handsworth, visit the website:  www.mercyhandsworth.co.uk