GO BACK TO ALL NEWS
Robroyston, Glasgow
At our General Chapter in 2015, it was decided, after much discussion, that one of the greatest needs in our world today is care of those living with Dementia and support for their carers.

DEMENTIA CARE
IN HONOUR OF THE FORTHCOMING JUBILEE YEAR OF MERCY, WE MANDATE THE CONGREGATIONAL LEADER AND TEAM, IN CONSULTATION WITH THE MEMBERSHIP, TO RESEARCH ALL ASPECTS OF DEMENTIA CARE, TAKING INTO ACCOUNT THE DONATIONS FUND AND THAT THIS MERCY INITIATIVE BEGINS WITHIN THE JUBILEE YEAR.
Over the last two years workshops have taken place in England and Wales and we have now had one in Scotland which was led by Sr. Peggy Ennis rsm.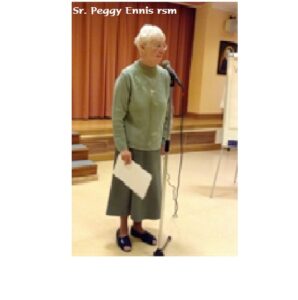 The three areas covered by Peggy were:-
Overview of Dementia;
Strategies for coping to include the person living with Dementia and those involved in caring;
The Spiritual care for those with dementia.
The venue for this gathering was St. Joseph's Care home run by the Little Sisters of the Poor. The participants included our Sisters, Associates, friends, Little Sisters and their staff.
By virtue of attending each person became a Dementia friend and was invited to commit to some action for the future.
The general consensus for the session was very positive – people felt it had been informative and helpful.
Comments received after the event.
"Sr. Peggy's explanation about memory and feelings made it easier to understand how residents can react on different occasions".
"It took away my fears that my forgetfulness is not necessarily a sign of dementia".
"It was the best training session held in the home, and there have been many".
We would hope there will be similar days to follow.