GO BACK TO ALL REFLECTIONS
June Prayer Reflection 2018
"Love is His Word, Love is His Way."


During this month of the Sacred Heart, we have the opportunity to reflect on what love means to each of us. Recently we watched a young couple – Prince Harry and Meghan Markle pledge their love for each other as they exchanged their marriage vows. Bishop Michael Curry, who preached at their wedding service, reminded us that when love is the way, so many wonderful things can happen. I am sure each of us have experienced great acts of love in our lives and, like Mother Teresa, we can say that not all of us can do great things but we can do small things with great love.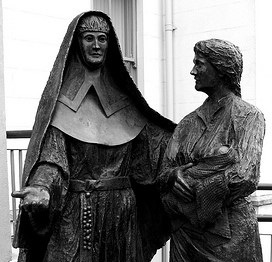 Catherine McAuley in her retreat instructions tells us that if the love of God really reigns in our hearts it will quickly show itself in the exterior. Let us pray during this month of June that each of us will show the love of Christ to all with whom we come into contact.
Sr. Marie O'Dea