GO BACK TO ALL NEWS
My Visit to Downing Street
29th March 2017 was a milestone day. It will go down in history as the day our government triggered Article 50 beginning the departure of the United Kingdom from the European Union.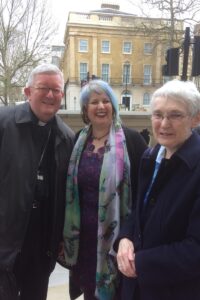 On that significant day I attended a reception in Downing Street for Midlands' Civil Society leaders on behalf of Citizens UK.
There were about 70 people present from across the region, some familiar faces including Archbishop Bernard Longley and Joy, the Manager of Anawim, which is a charity for women working together in Balsall Heath, Birmingham.
For me it felt surreal crossing the threshold of 10 Downing Street where we were supposed to meet Theresa May. Instead, the gathering was addressed by Rob Wilson, the Minister for Civil Society as the Prime Minister, understandably, had another engagement that day and sent her apologies.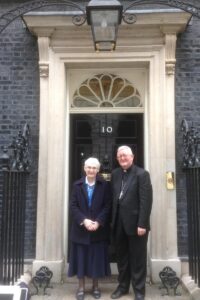 Rob Wilson congratulated and affirmed all the valuable work done in our communities by civil society and said we will have an important role post Brexit…….
My visit to Downing Street is an experience I will certainly remember and included are a few photos to capture the event.
Sr Mary Horgan