GO BACK TO ALL NEWS
Addo News
We are now in Level four Lockdown once again as the Delta variant and the third wave of Covid 19 surges through the country. We know this variant is rampant also in the UK.
Gauteng province is the epicentre at present and the hospitals are in crisis as they try to cope with the rising numbers. Schools and churches are closed for at least 14 days when the president will speak again to the country. He calls his address to the country 'A Family Meeting'. Alcohol is banned as the numbers of people turning up at hospitals with drink related injuries cause more crisis with the shortage of beds and medical staff. There is a curfew from 9.00pm until 4.00am.
Fortunately the vaccine rollout has started and we are due to have our second Pfizer jab this month. School staff are now being vaccinated and the G7 Summit in Cornwall has ensured a steady supply of vaccines to continue the rollout.
We are blessed in being able to continue our outreach ministry despite Covid. Thank God. Computer classes carry on, taking health precautions in line with legislation. Our Soup Kitchens continue as well as help for the sick and those needing ID Documents and Birth Certificates. We are now in the thick of the Citrus Picking Season and these are the only few months of employment for many in the Valley so life has to go on as normal as is possible.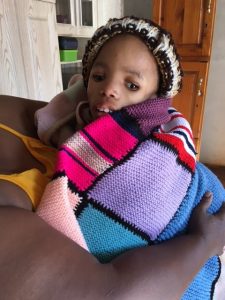 Winter has come and temperatures have plummeted, especially mornings and evenings, but we have beautiful days from 11.00 am usually. It is a difficult time for the poor especially those living in shacks and we are lucky we receive many donations of hand knitted blankets and jerseys from the CWL ladies in Port Elizabeth. We distribute these to the elderly and the children.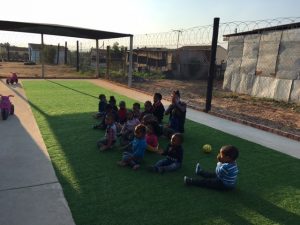 The Baby Care Facility in Valencia remains open during the Lockdown to ensure parents can work and it is a safe place for the children every day. We were lucky recently to receive a donation of artificial grass for their play area from the citrus company Cape Span as it is impossible to grow grass in the area due to the drought and dust!!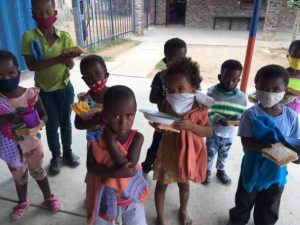 Lwazi Creche in Dunbrody is flourishing and the children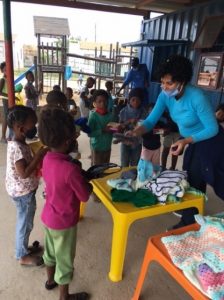 enjoy stimulating activities, good food and lots of fun!
The Italian Citrus Company Unifrutti continues to
support this important project.
Links
http://www.placeofmercyandhope.com
https://www.facebook.com/MaristMercyCare/
https://www.instagram.com/maristmercycare/?hl=en