GO BACK TO ALL NEWS
A New Statue of Venerable Catherine for Saint Mary's, Handsworth Birmingham
(Catherine's last foundation)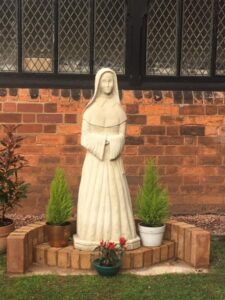 The statue of Catherine stands about three feet high in the front garden of Saint Mary's.
Catherine's features are based on the description provided by Sister Clare Augustine Moore. It was sculpted in limestone by Peter, the nephew-in-law of Anne ( who worked for many years in Saint Mary's).
For the poor men and women who call daily at the convent she represents 'all the nuns'.
The original idea for a new statue of Catherine was the brainchild of Sister Ita Keane (1945 – 2019). Sadly, Ita was not here to witness the installation and blessing, though she was fondly remembered in our prayers.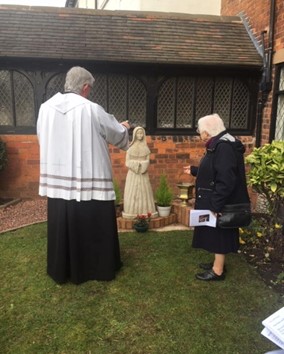 For the occasion of the blessing and dedication, Father Gerry, PP, prepared a beautiful and fitting service which included hymns, scripture, intercessions and the singing of the Suscipe. In his reflection on Ephesians 2:8-10, Father Gerry reminded us that each one of us is God's work of art.
Father Gerry gave thanks for the ministries of Sisters of Mercy worldwide, and the one hundred and seventy-eight years Mercy ministry in Handsworth.
During the intercessions, all our deceased Sisters were remembered and, in a special way, Ita was remembered.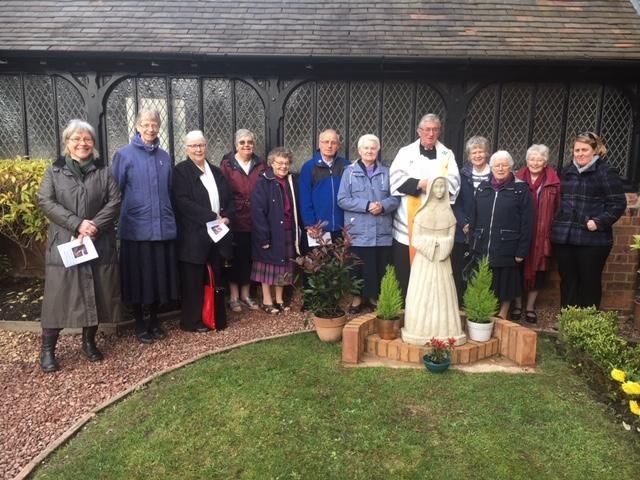 Missing from the group is Jenny (Archivist) who took the photograph!
After the ceremony, all gathered in the refectory for a very special meal.