St Non's Retreat, Wales
St Non's Retreat, St David's — is a place of spirituality, a place of hospitality, a haven for those who come seeking peace.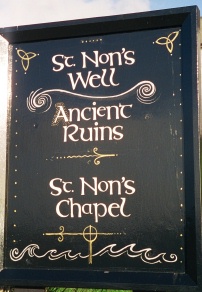 Pilgrims coming to St David's visit the holy places associated with St Non and St David.  The ruins of St Non's Chapel was the spot where St David was born around the year 500 AD.
St Non's Well is regarded as one of the most sacred wells in Wales.
The unique Chapel of Our Lady and St Non was built in 1934.  It contains many stones from ruined pre-reformation chapels in the area.  The stained glass windows depict Saints Non, David, Bride, Brynach and Winifred.  Many of the carved and incised stones were left in the altar of St Non, which also contains a white heart-shaped stone from the altar of St Patrick's Chapel.